EASY MAKE-AHEAD FOIL PACK MEALS FOR CAMPING
Are you looking to simplify your camping meal prep and enjoy more time on outdoor adventures? Foil pack meals are the perfect solution for families looking to streamline their camping routine without sacrificing flavor. These easy, ready-to-cook meals are sure to satisfy hungry campers after a busy day of exploring.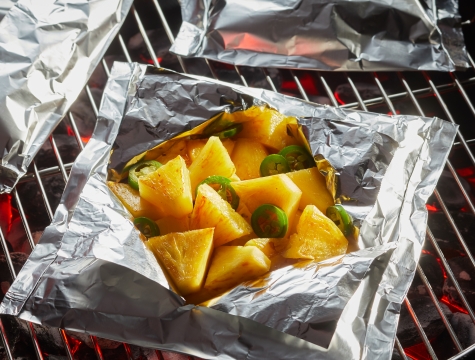 WHAT ARE FOIL PACK MEALS?
If you've never heard of foil packet meals, you've been missing out! This technique involves wrapping your meal, including your favorite seasonings and sauces, in heavy duty non-stick Reynolds Wrap® Grill Foil to create a tightly sealed packet that locks in all the flavors. Foil packet dinners are the perfect way to simplify cooking while camping or grilling outdoors.
WHY ARE FOIL PACK MEALS IDEAL FOR CAMPING?
Whether you are glamping in a fully equipped RV or are tenting deep in the wilderness, foil pack meals for camping are one of the best camping hacks you'll ever discover because they're:
Convenient: Making foil meals when camping is the ultimate way to enjoy a delicious dinner without bulky cookware. With no pots or pans required, you can reheat foil packs on a metal grate over your campfire or a portable grill.
Easy to clean up: Cooking can be messy, but not with foil pack meals! After you are finished eating, toss the foil in a trash bag, and -- voila! -- no other cleanup required. Foil packs are especially beneficial when camping in remote areas with scarce water for washing dishes.
Versatile: Imagine effortlessly whipping up mouthwatering dishes ranging from tender meats and vibrant vegetables to delicious desserts and perfectly cooked potatoes, all wrapped in convenient foil packets.
Customizable: You can easily cater to everyone's tastes and dietary needs. Whether you're preparing vegetarian or gluten-free packets, each camper can enjoy a personalized and delicious meal.
Tasty and delicious: By perfectly sealing in the ingredients and seasonings, this method ensures that every bite bursts with incredible flavor.
WHAT IS THE BEST ALUMINUM FOIL FOR FOIL PACK MEALS?
Our 12" Reynolds Wrap® Heavy Duty Foil works great for smaller portions or single-serve size meals. If you're cooking for the whole family, we recommend using our extra-wide 18" heavy-duty, non-stick Reynolds Wrap® Grill Foil that delivers no-mess cooking and grilling, and the strength you need for family foil packet dinners.
HOW TO MAKE FOIL PACKET MEALS FOR CAMPING
What You'll Need
Before your next camping trip, prep your easy camping foil meals ahead of time and don't forget to pack these must-have items for cooking on the go:
Long metal tongs
Fire-resistant gloves
Meat thermometer
Extra heavy-duty, non-stick Reynolds Wrap® Grill Foil
Utensils
Heat-safe plate, platter, or board to place hot foil packs on after they're done heating
Sealable plastic bags or containers for transporting and storing leftovers
Cooler with ice or ice packs
With these essentials, you'll never have to settle for bland meals on your travels again!
Step-By-Step Directions: How to Make Foil Packet Meals for Camping
Make a list: Grab a notepad and determine how many meals you need to feed everyone for each day planned. Let your creativity flow as you brainstorm a medley of savory dishes. Be sure to consider any dietary restrictions and preferences.
Cut the aluminum foil sheets: To ensure you have the correct size foil to fit all the ingredients, tear off one 12 x 12-inch foil sheet for a single-serving size packet, or an 18 x 18-inch sheet for family-sized servings.
Prepare the foil packet ingredients: To keep cooking consistent and ensure tenderness, cut all meat and veggies to the same size. Root veggies like potatoes and carrots should be smaller to make sure they cook properly. If fish is on the menu, go ahead and keep it whole — simply use larger sheets of foil.
Assemble and wrap the foil pack meals:

Lay a sheet of extra heavy-duty non-stick Reynolds Wrap Grill Foil on a flat surface and begin adding your ingredients in the center.
Add 1 tbsp of butter or oil per foil packet.
Season to your desired level of flavor.
Wrap and seal your foil packets:

Center all food items in the middle of the foil sheet.
Grab the two long edges and bring them together.
Begin folding the edges together down toward the food. Be sure to leave a little wiggle room for steam and heat to build when cooking.
Next, fold the two opposite sides inward toward the food to seal off the packet altogether.

Add a personal touch by labeling each foil pack with the meal ingredients and the name of the lucky camper who gets to eat it.

Precook the foil packets for less hassle when camping: The easiest way to make foil packets for your camping meals is to fully cook your food in the oven a day before you leave, cool them properly, then store them in the fridge or freezer for your trip. We recommend cooking your foil packets on a baking sheet at 450°F for 20-25 minutes or follow the instructions from one of our easy, delicious, and mess-free foil packet recipes for the whole family. Please note, oven cooking times will vary depending on the ingredients used and the fullness of the packet. To check if your packet meal is ready, carefully peel back the foil and stick your meat thermometer in the middle of the packet to ensure it reads the optimal food-safe internal temperature standards set by the USDA for the meat or specific foods included in your packet.

Tips for transporting your foil pack meals:

Keep your make-ahead camping meals in a cooler with plenty of ice until reheating.
Seal your premade camping foil packets in plastic bags or airtight storage containers to avoid contamination from the melted ice water or condensation in the cooler.

Get foil pack meals ready for reheating: You may want to carefully open your premade foil packets and add a bit little bit of extra butter, condiments, or a tablespoon of water before reheating your packs on the fire to ensure your meal does not dry out. Wrap the foil packets with an extra layer of aluminum foil to protect them from any tears, openings or punctures that may let out remaining moisture during reheating.
Prepare your campfire to heat the foil packs: Build an intense fire and let it reduce to mostly hot coals or use a grill and keep the temperature between 375-400°F. Once the fire reduces to hot embers, large chunks of charred wood should be ashy white with red centers for the ideal cooking heat. Charcoal is a great way to maintain consistent heat. Once the fire is ready, we recommend placing a metal grate over the hot coals and evenly spacing the campfire meals around the grate, avoiding the direct center.

Tip: If you don't have a metal grate, double or triple wrap your foil packet meals and carefully place them directly on the hot embers or coal briquettes using fire-resistant gloves or long metal tongs. The extra foil layers will help prevent the contents from burning on direct heat while adding extra durability. Still, you should be careful not to puncture or tear your foil packets when handling them with metal tongs.

Reheat the pre-cooked foil packs: Rotate the packets occasionally and carefully using long metal tongs to spread the heat evenly. You'll hear a slight sizzle inside the packs as a mouthwatering aroma fills the air. The wait will be over in about 8-10 minutes, and your delicious campfire meal will be ready to enjoy! Remove the packets by using long metal tongs and fire-resistant gloves, and have a heat-safe plate, platter, or board on hand to place the hot foil packs once they are done.
Check for doneness: Pull out your favorite long-handled tongs and heat-resistant gloves to remove your packs with ease. To check if your packet meal is ready, carefully remove the packet from the grill or campfire with tongs and grilling gloves and place on a heat-safe plate, platter, or board. Following food safety guidelines, we recommend carefully peeling back the foil and sticking your meat thermometer in the middle of the packet to ensure it reads 165°F, which is the optimal food-safe internal temperature for reheated foods according to the USDA. If it's not quite done, refold it and pop it back on the heat for another 5-10 minutes.
Serve and enjoy: It's time to unveil the deliciousness! Take the foil pack meal off the heat source and gently open it up. Savor the aroma as you transfer the mouthwatering goodness onto a heat-safe plate or eat it straight out of the foil packet after allowing the food to properly cool first. Be careful when handling the foil pack—the contents can be HOT!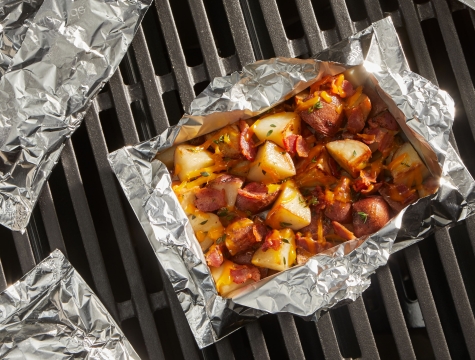 Foil Packet Recipes For the Whole Family
Whether you're a seasoned camper or a newbie, these delicious foil packet recipes will help you plan your easy camping dinners. Spend more time enjoying the great outdoors and less time worrying about meal prep and cleanup!
Savory and delicious chicken foil packets
Hearty and filling steak foil packets
Shrimp foil packets that will make your mouth water
Tender, flaky, and tangy fish foil packets
Campfire-ready pork chop foil packets with a kick of flavor
Perfectly seasoned potato foil packets
Zesty and flavorful vegetable foil packets
Dessert foil packets served hot and oozing with sweetness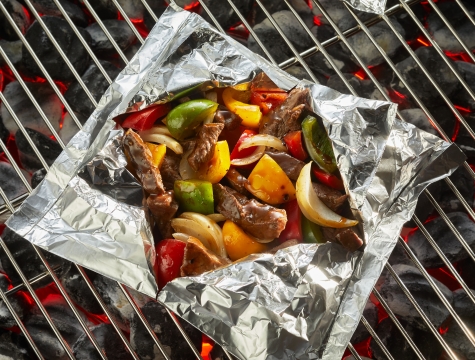 Explore More Meals for Camping
Lock in delicious flavors with our packet cooking recipes
If you are using heavy-duty non-stick Reynolds Wrap® Grill Foil, make sure the non-stick (dull) side faces your meal ingredients, and the shiny side is on the outside. With Reynolds Wrap® Heavy Duty Foil, placing your food on either side is perfectly fine.
The best method to check for doneness is to use a meat thermometer. If you don't have one, instant-read meat thermometers are readily available in the cookware sections of most supermarkets and other stores. Your reheated packet meal should reach 165°F for the recommended safe internal cooking temperature, according to the USDA. If your packet ingredients haven't reached the optimal temperature yet, cook the packet another 5-minutes and check it again. Repeat until the temperature reaches 165°F.
The foil packing boxes are recyclable. If available in your community, foil sheets may also be recycled, but you must fully rinse foil sheets before recycling.