Cooking Guide
If you want to make dinner easy while keeping the main dish moist and flavorful, large turkey size oven bags are a great tool to use. Follow these instructions and cooking times to make roasting turkey, pork, beef or lamb easy and stress-free.
TURKEY OVEN BAG COOKING GUIDE
If you're getting ready for the holidays or a celebratory meal with the family, follow this cooking guide for preparing a turkey in an oven bag.
INSTRUCTIONS:
Preheat Oven to 350°F.
Add 1 Tbsp flour, 2 stalks of celery and 1 medium sliced onion to oven bag. Spray inside of bag with non-stick cooking spray, if desired.
Brush thawed turkey with oil or melted butter; season as desired. Place turkey on top of vegetables in bag.
Close bag with tie; cut six 1/2-inch slits in top of bag.
Bake according to chart below until meat thermometer reads at least 165°F in several places not touching the bone. Bake until dark meat reaches 180°F if desired. Use Reynolds KITCHENS® Large Size Oven Bag for foods 8lbs or smaller.
ALWAYS CHECK DONENESS WITH A MEAT THERMOMETER.
Cooking Times:
Check out the images below for more information on cooking times or download the full turkey oven bag guide for more details.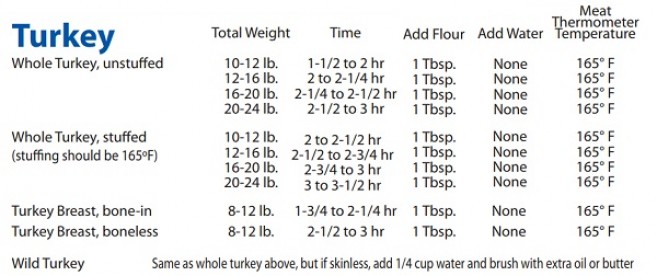 LARGE OVEN BAG COOKING GUIDE
For everyday meals with ease, cook dinner in an oven bag following these steps and cooking times.
Cooking Times:
Check out the images below for more information on cooking times