Thanksgiving Meal Tips
Nothing brings family and friends together like sharing a holiday meal. Check out some of our tips and tricks for a smooth and easy Thanksgiving feast with the help of Reynolds Wrap® Aluminum Foil and Reynolds Kitchens™ Oven Bags!
1+ DAYS AHEAD OF TIME:
Planning a traditional Thanksgiving meal this November? Start prepping before Thanksgiving Thursday to give you more time to spend enjoying company. Many Thanksgiving side dishes can be made in advance and store in the refrigerator or freezing and reheated prior to mealtime. Follow these simple Thanksgiving cooking tips to enjoy your Turkey Day to the fullest!
---
Get ahead of Turkey Day preparations by cooking your after-dinner treats ahead of time! Desserts can be made a few days before and warmed later. Bake an apple or pumpkin pie in a Reynolds® Bakeware 9-Inch Pie Pan, cover and store in the refrigerator until it's time to indulge.
Homemade cranberry sauce is a traditional Thanksgiving dish that can be made ahead and kept cold until needed. Food lasts only as long as its soonest expiring ingredient, so check and follow "best by" dates closely if you're planning to prepare dishes more than two days in advance.
TIP:

Prepare a checklist including cook times for all elements of your Thanksgiving.
TIP:

Always cover food when storing in the refrigerator to prevent bacteria growth and contamination.​
DAY BEFORE:
Take advantage of Wednesday to get ahead of Thanksgiving cooking. Prepare most of your side dishes and casseroles on Wednesday, keep them cold overnight and reheat just before your Thanksgiving dinner. Make a traditional green bean casserole or a more modern sweet potato casserole in a Reynolds® Bakeware Casserole Pan, store overnight and serve warm. Please note, allow your food to fully cool before transferring to the refrigerator. If food is still warm, steam can accumulate and make your casseroles soggy.
Foil packets are another great way to prepare food without messy cleanup or a sticky pan. To create a foil packet, tear off a sheet of Reynolds Wrap® Heavy Duty Foil and place food in the center. Bring the two sides of the foil up to meet at the top, folding down twice. Then fold the two open ends twice to completely enclose food. Place in the oven and cook for your desired time.
Looking for more inspiration? Check out our full collection of delicious side dishes!
TIP:

Don't have a large enough bowl to mix up some homemade stuffing? Just use a Reynolds Kitchens™ Oven Bag! Just place the ingredients in the bag, close the bag with the nylon tie, toss the ingredients in the bag to mix and cook in the oven.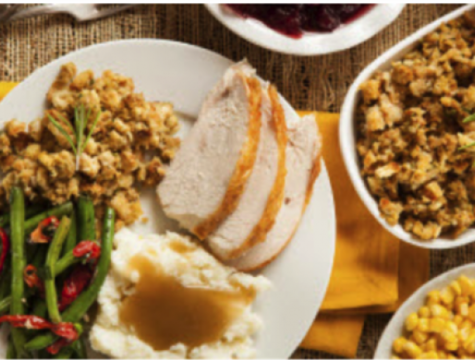 DAY-OF:
For the tastiest results, cook your turkey on Thanksgiving morning and schedule in enough time for the juices to set and gravy to be made once the turkey is done. Make this year's turkey in a Reynolds Bakeware 30 lb. Roaster Pan and follow this recipe for a flavorful turkey the whole family will love. Once the turkey is done, set aside and use the already preheated oven to reheat the side dishes you made ahead of time.
While the turkey is cooking, boil and mash your potatoes so they are at peak freshness for the meal. Top the mashed potatoes with gravy made from turkey pan drippings.
TIP:

If your guests are coffee drinkers, set your coffee maker timer to coincide with the end of your Thanksgiving meal