Happy Thanksgiving Turkey Sugar Cookies
Impress your family and friends this Thanksgiving with these festive sugar cookies.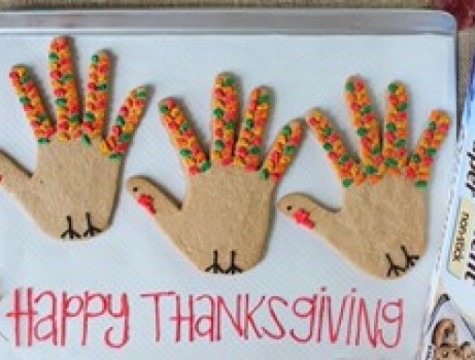 Thanksgiving Turkey Sugar Cookies
They're easy to cutout and easier to bake with the help of parchment paper. Kids will love to decorate them and everyone will love to eat them for dessert. Decorate a dozen and leave them out for the whole family to enjoy.
To make Thanksgiving Turkey Cookies:
Prepare the Sugar Cookie dough.
Trace a hand onto Parchment Paper with a pencil. Cut out your shape with scissors.
Roll out the dough. The fingers shapes will be delicate so leave them a little thicker than a usual cutout cookie.
Using your Parchment pattern, cut out the dough into hand shapes.
Decorate with colored frostings and candy as desired.
Eat and enjoy. Gobble gobble!