Halloween Fun: Taffy Apples
Be the hostess with the mostest this season with these easy-to-make and even easier to clean, slow cooker taffy apple ideas!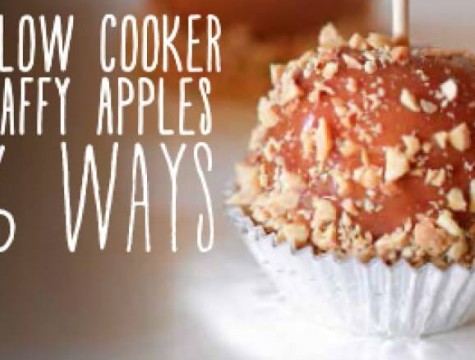 HALLOWEEN FUN: TAFFY APPLES
As the weather cools down and Halloween quickly approaches, we wanted to share a few fun twists on Halloween Taffy Apples for your next party. They're easy to make, easier to clean and taste better than they look! You can find the full instructions on how to make these below.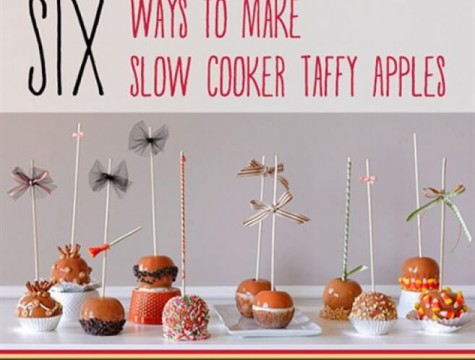 MATERIALS
Reynolds® Baking Cups
Reynolds Kitchens™ Slow Cooker Liners
Slow cooker
Melting caramels
Apples
Sticks to hold apples
Favorite candy coatings (We love every kind of sprinkle, chopped nuts and chocolate!)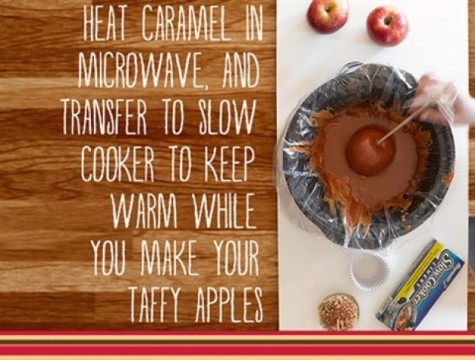 INSTRUCTIONS
Secure slow cooker liner in slow cooker
Add in caramels and let cook on high for 1.5-3 hours depending on amount of caramels, stirring frequently! For faster results, put caramel in microwave and then transfer into slow cooker to keep warm and gooey for hours
Once melted, switch slow cooker heat to low for warm, gooey goodness all night
Wash apples and insert sticks into top of apple, and push most of the way through the apple to keep it from falling off the stick while dipping
Dip apple into caramel, twirling around to coat the entire apple
Immediately sprinkle or dip directly into your preferred toppings
Place coated apple in a Reynolds® Baking Cup to hold toppings and catch dripping caramel
Enjoy!
TIP:

Try dipping apple slices for tinier hands. We recommend using parchment paper to lay out the dipped apple slices while coating with candy toppings. Allow to cool and harden before serving in baking cups.
FLAVOR COMBINATIONS
Taffy apples are already pretty delicious no matter how you choose to top them. Below are a few of our favorite flavor combinations. Pin all six Taffy Apple recipes to Pinterest for a spooky and sweet Halloween.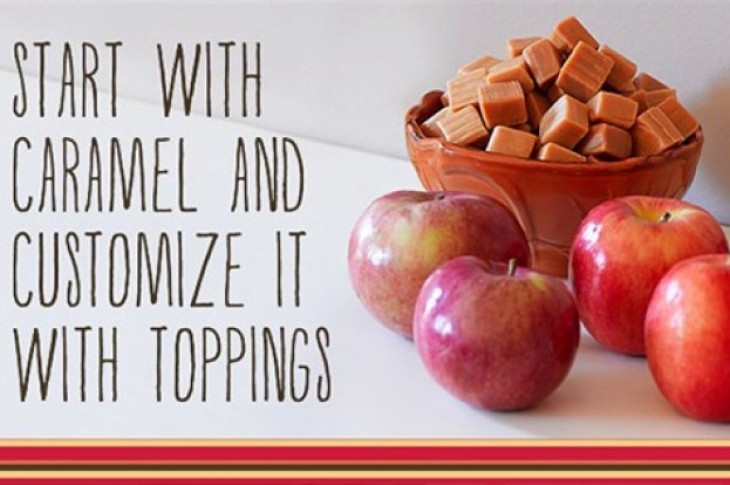 Start with Caramel
Start with caramel and customize it with toppings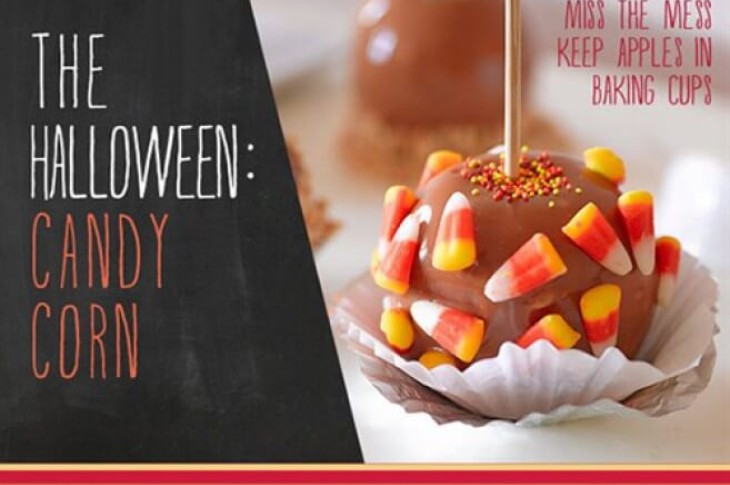 Candy Corn
Place candy corn on apple while caramel is still warm.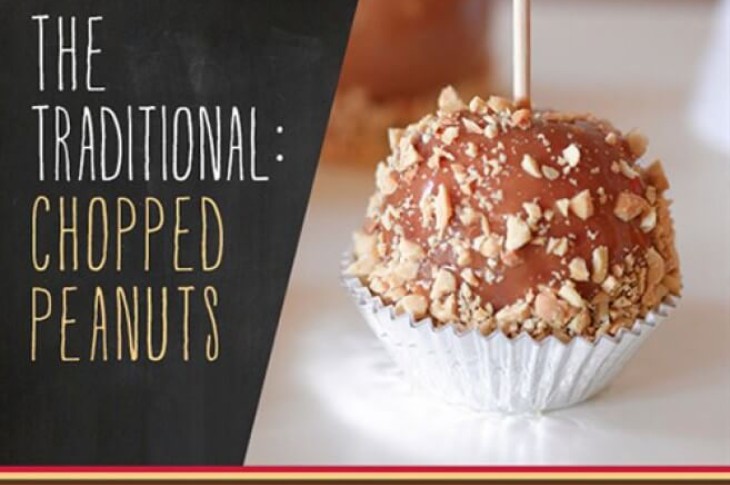 Chopped Peanuts
Chop of nut of choice and sprinkle on while caramel is still warm.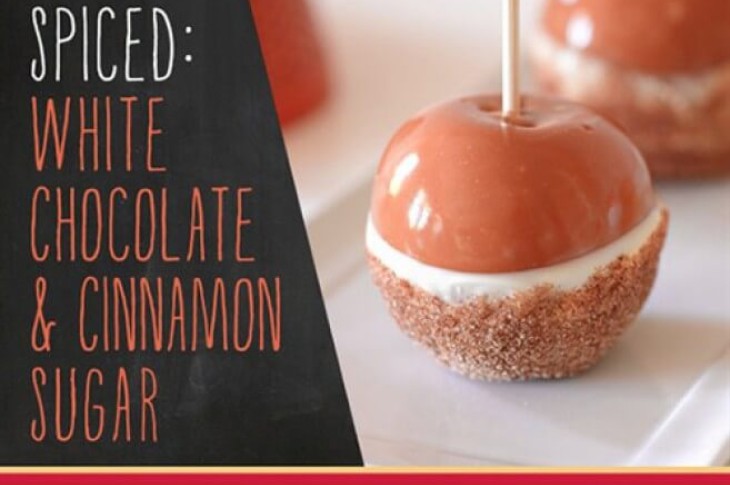 White Chocolate and Cinnamon Sugar
After caramel hardens, dip in melted white chocolate and roll in cinnamon and sugar mixture.
Peanut Butter and Pretzels
Once caramel hardens, dot peanut butter all over apple and stick pretzels in for the perfect sweet and salty mixture.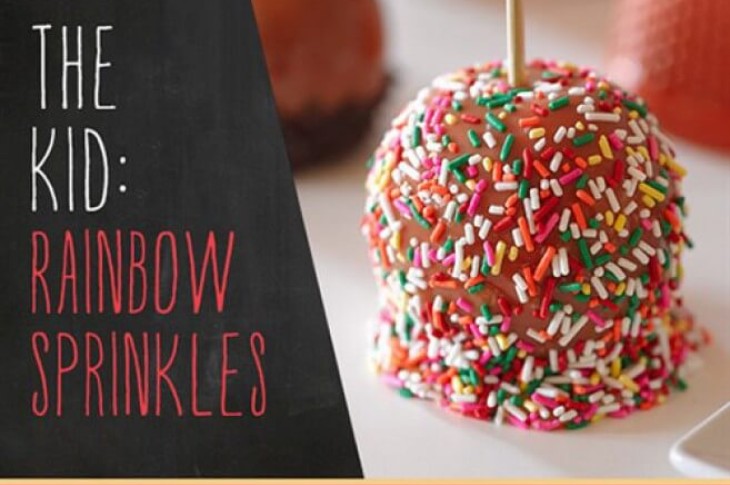 Rainbow Sprinkles
Roll apple in sprinkles of choice and let harden before enjoying.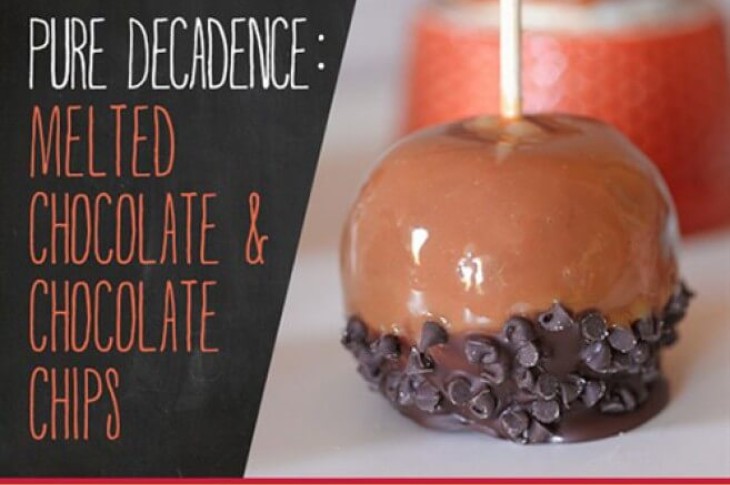 Melted Chocolate
Allow caramel to harden, dip apple in melted chocolate, sprinkle on chocolate chips for even more pure decadence.