DIY Sundae Bar
Cool down this summer with a do-it-yourself ice cream sundae bar. It's the perfect way to let guests enjoy their favorite flavors, and cleanup is easy with Reynolds® Baking Cups!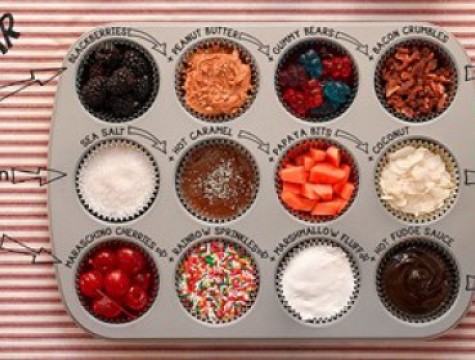 Sundae Bar
Instructions:
Fill a standard muffin tin with Reynolds Foil Baking Cups – the extra sturdy foil liner will help contain heavier ingredients.
Select a variety of toppings to fill each cup. Try for a mixture of sauces (i.e. Hot Fudge, Caramel), fresh items (i.e. fruit, chopped nuts) and indulgent items (i.e. gummy candy, chocolate). Try thinking outside the box and include a savory item or two – we recommend bacon crumbles and sea salt!
Set out the muffin tray along with a couple of flavors of ice cream and bowls, and let everyone make their own combo!
Clean up is easy – just throw away the Baking Cups.